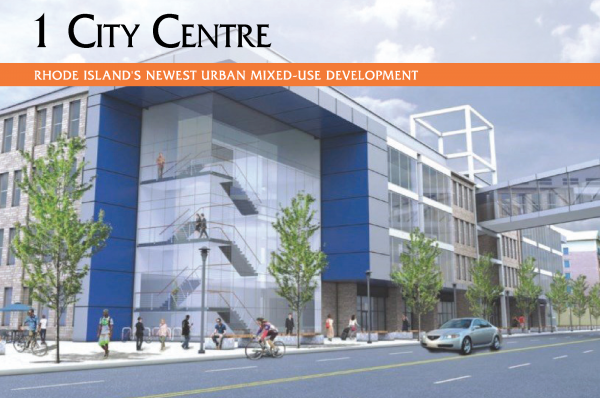 Photo: City Centre 1 Rhode Island's Newest Urban Mixed-use Development
City Centre Warwick Provides 95 acres of high-density, mixed-use development opportunities within a quarter mile radius of Green Airport and the Interlink Intermodal facility with MBTA commuter rail access to Boston. City Centre Warwick presents a "regional value" option to the Boston ring communities for location dependent and location efficient business development and commuter-based residential development. Developers can capitalize on our geographic location and transportation choice to lower housing and transportation costs of a business or household, making City Centre Warwick an affordable place to live and work.
Rhode Island is well positioned to accelerate private-sector involvement to complement the more than $300 million in federal and state investments that have been made in planning and transportation infrastructure in City Centre Warwick located adjacent to Green Airport, a Northeast Rail Corridor and two interstate highways. A key component of Rhode Island's long-term, economic expansion is the development and promotion of business-ready infrastructure hubs, like City Centre Warwick that act as magnet for industries, businesses and jobs.
The City of Warwick Planning Director and staff are available to help you make the process of starting or expanding your business in City Centre Warwick efficient and convenient. The Planning Department is here to guide you through the development review and permitting process, assist you with contacting property owners, finding available property and connecting you with the local and state resources that you need to succeed in City Centre Warwick. Spend less time permitting and more time expanding your business. For more information about the City of Warwick Zoning Ordinances Click Here.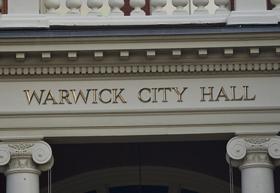 Greater revenues than projected served as the principal driver of a $3.4 million surplus for the fiscal year ending June 30, 2013. Expenditures for the year were under budget by $22,767 and revenues came in at $3.3 million more than budgeted. This is the 12th time in 13 years that the city has posted a surplus. The surplus will boost the city's unassigned fund balance from $8.3 million to $10.6 million. The reason the full amount of the surplus won't flow into the unassigned fund balance is that $806,000 was transferred to last year's supplemental budget plan. Assuming the school surplus is on target, the collective city surplus for the last year would be close to $6 million.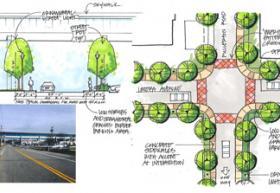 All together, City Centre Warwick and this district for business innovation provides unparalleled development possibilities for some 3 million square feet within a ½ mile of Routes 95 and 295, the airport and commuter rail to Boston.

Skywalk potential for tie in to area development
The Warwick InterLink sits in the heart of the District. The facility, completed in 2010, contains a new rail station, 1,800 parking spaces for rental car operators, 800 spaces for commuters, a local and regional bus hub, and a customer-service building with car rental service counters. It connects directly to Green Airport via a 1,200-foot enclosed moving skywalk. The skywalk has been designed with future development in mind. Properties located along the skywalk have the ability to directly connect to the Interlink on the third level. This connection would create a seamless system where hotels, restaurants and offices could take full advantage of the available transit options and also take full advantage of the millions of travelers utilizing the transit system.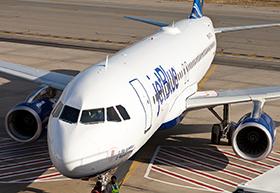 The Green Airport Improvement Program is the result of a detailed study by the airport to enhance the safety areas around runway 16-34 and to lengthen primary runway 5-23 to a total of 8,700 ft. The Federal Aviation Administration (FAA) conducted an environmental impact study and issued a record of decision allowing for the airport to implement the Green Airport Improvement Program, which consists of safety and efficiency projects. The safety projects are related to airfield facilities that do not meet current FAA airport design guidelines and require upgrading. The efficiency projects have been identified through the Rhode Island Airport Corporation' (RIAC) planning efforts. Additionally, FAA has confirmed the need for these facility improvements to enhance the efficiency of passenger movements. The lengthening of Runway 5-23 falls into the category of an efficiency project. The length of Runway 5-23 is inadequate to accommodate coast to coast and international flights. Lengthening the runway will further enhance the efficiency of the New England Regional Airport System since studies have concluded that a runway length of 8,700 feet will meet long term business needs.