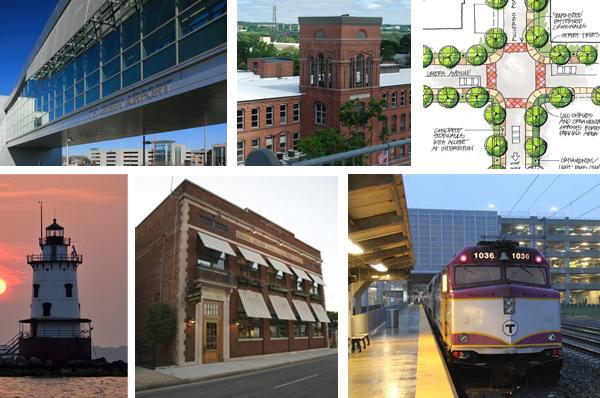 The Market Segmentation Analysis researches current economics, demographics and real estate markets to further define a development program that will bring new business and resident populations to City Centre Warwick. The report identifies areas of growth opportunity and critical markets to position City Centre as a major growth center in New England.
On August 26, 2012 the front page of The Providence Journal announced that City Centre Warwick (aka Warwick Station District) was 'Ripe for Development'. State and city officials boasted that the transit infrastructure was complete and the direct link between airport, bus, train, and car rental facility was in place with the opening of the Sky Bridge Interlink, resulting in a true Transit Oriented Development (TOD). The article also proclaimed that this unique configuration of transportation modes was surrounded by roughly 100 acres of privately owned land that could possibly become Warwick's newest downtown complete with offices, hotels, shops, and urban-style residences.

A real estate and economic market analysis was performed that included an analysis of the area demographics, economics and all major real estate types. The examination focuses on the demand and supply for the real estate uses from existing as well as potential new demand created by new business attraction and transit. Demand was analyzed from ridership and passenger traffic.
In addition, a score card was developed that qualitatively summarizes the transit oriented development (TOD) assets and liabilities from lessons learned from the comparables and the market analysis. Overall City Centre Warwick scored in the upper percentile for TOD supported real estate. The strongest assets were for infrastructure and potential to attract new business and the weakest were related to recessionary economics and high vacancies in all real estate sectors as well as the availability of shovel ready sites for development. The complete report and details can be found in the Market Segmentation .pdf under relevant documents.

City Centre Warwick has some specific assets in terms of logistics that differentiate it among any other location in the state and the region. There is clearly an air/vehicular access and intermodal advantage as well as a cost advantage when compared to Boston or Providence. City Centre Warwick has more people related transportation assets and as such, there is a definite emergence of life science, technology, tech-manufacturing, logistics and distribution as well as bringing people and higher value goods in and out of the region that favors this development.